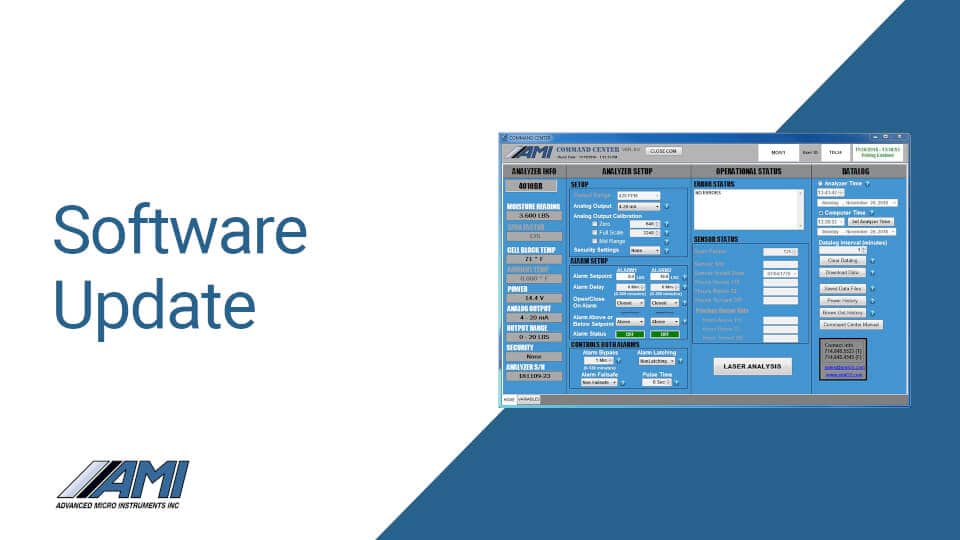 The latest version of the COMMAND CENTER User Interface Software is now released and available for download. Version 8 debuts two new noticeable features. First is the Error Status Display, which allows users to view any error(s) detected by the Analyzer. Second, customers with the BARRACUDA MODEL 4010BR TDL Moisture Analyzer will be able to use SMART REALIGNMENT to realign the signature H2O peak and methane peak on the waveform through simple keystrokes. The process can be completed in the field and eliminates the need to ship the unit back to our manufacturing facility.
The COMMAND CENTER is a universal platform that works across all AMI Gas Analyzers. It provides access to the Analyzer's advanced features and functionality. Once the software is loaded onto a computer laptop and connected to the Analyzer, the software will automatically recognize and display all the settings and cells specific to that Analyzer. The operator can make changes to any settings quickly through this user interface.
The new Error Status Display appears in the top portion of the software. When the Analyzer detects any error during its operation, an error code specific to that issue will appear in this display area. The code will remain until an operator trouble shoots the problem and successfully resolves it. The Analyzer will automatically remove the error code from the display once it no longer detects the problem. A matrix, containing all the codes and the errors assigned to them, can be found in the operator manual of the Analyzer.
The software also debuts SMART REALIGNMENT – a convenient tool to realign the signature peaks on the waveform of the MODEL 4010BR TDL Moisture Analyzer. Over time, the signature peaks for all TDL Moisture Analyzers shift regardless of the manufacturer or brand. To fix the issue, customers are required to either complete a complicated manual process in the field or ship the Analyzer back to the original manufacturer and pay a hefty fee. AMI has created a much easier and simpler solution for customers of its BARRACUDA MODEL 4010BR and made it available on the COMMAND CENTER. Once a laptop with the COMMAND CENTER is connected to the MODEL 4010BR, the operator can realign the signature peaks by following a series of steps. SMART REALIGNMENT eliminates one of the biggest frustrations that operators of TDL Moisture Analyzers must contend with and helps the unit return to operational status in a timely manner – something that most other manufacturers cannot promise.
Companies or customers interested in learning more about the COMMAND CENTER and its latest update should contact AMI or their local AMI distributor.