Patented Designs & Key Technologies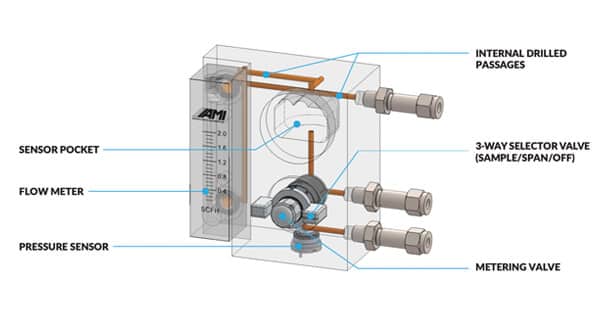 AMI ELIMINATOR CELL BLOCK
ELIMINATOR CELL BLOCK
Our patented ELIMINATOR CELL BLOCK provides a unique sample system approach that virtually eliminates all potential leak paths while optimizing flow efficiencies. The sample system & flow efficient sensor pocket are machined directly into a solid metallic block and interconnected with small diameter, precision-drilled, intersecting gas passages. Finally, we integrate our specially engineered 3-way Selector Valve, a metering valve, pressure sensor and flow meter directly into the machined block. This approach eliminates long lengths of leak-prone tubing, delivers up to a 400% faster measurement response time, and provides front panel access to the sensor while minimizing overall Analyzer size.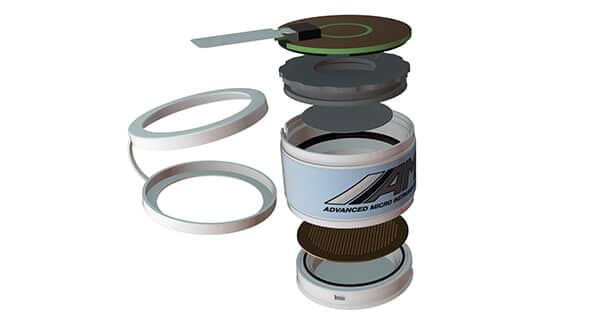 Sensor breakout
Proprietary Sensor Technology
AMI uses proprietary manufacturing techniques to produce its exclusive electrochemical oxygen sensors. The patented designs produce a sensor that yields an extremely quick response, high reliability and longer product life. AMI's oxygen sensors provide an industry-leading resistance to H2S, in concentrations up to 500 ppm. This eliminates the need for a maintenance-intensive H2S scrubber for the sample gas. AMI also puts 100% of our sensors through a battery of performance tests across multiple temperature ranges to insure they meet our strict quality standards.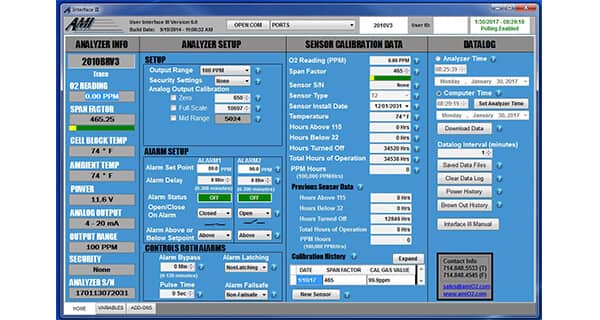 Command Center User Interface
Command Center Software
AMI's powerful COMMAND CENTER User Interface communicates with all AMI Gas Analyzers. It provides technicians with access to advanced features for configuring and troubleshooting the Analyzer. Users can program alarms to be fail safe or non-fail safe, latching or non-latching, and set as independent alarm delays. They can also access the automatic data logging files, available on all fixed and portable Analyzers. The data logs provide time-stamped records of gas measurement, gas pressure, analyzer temperature and power outage events that can assist with solving intermittent problems.