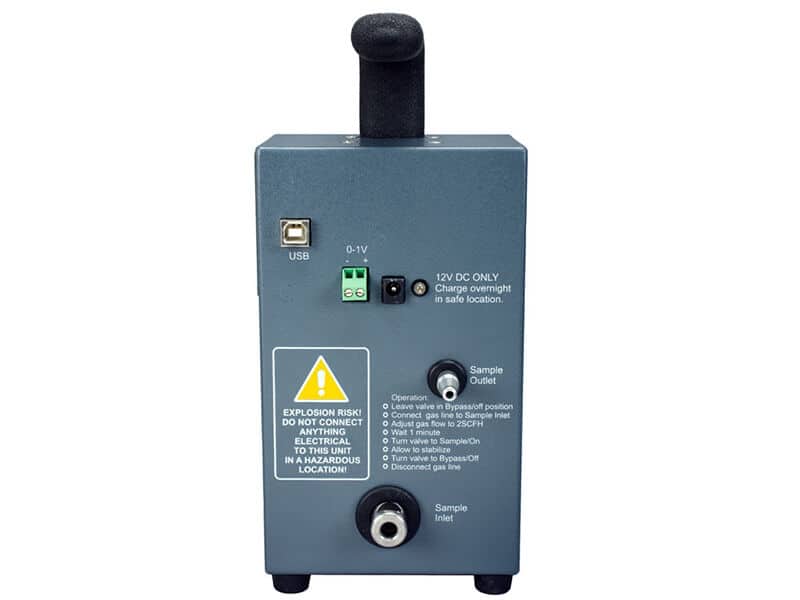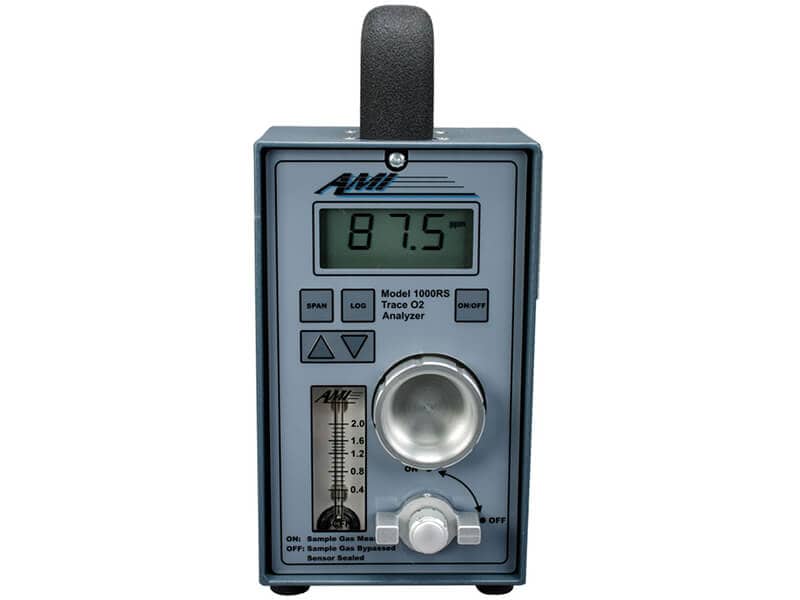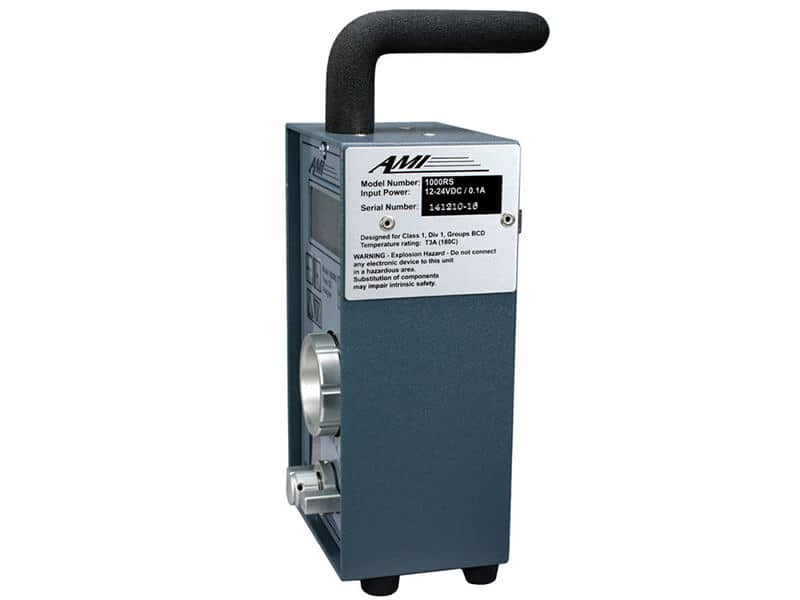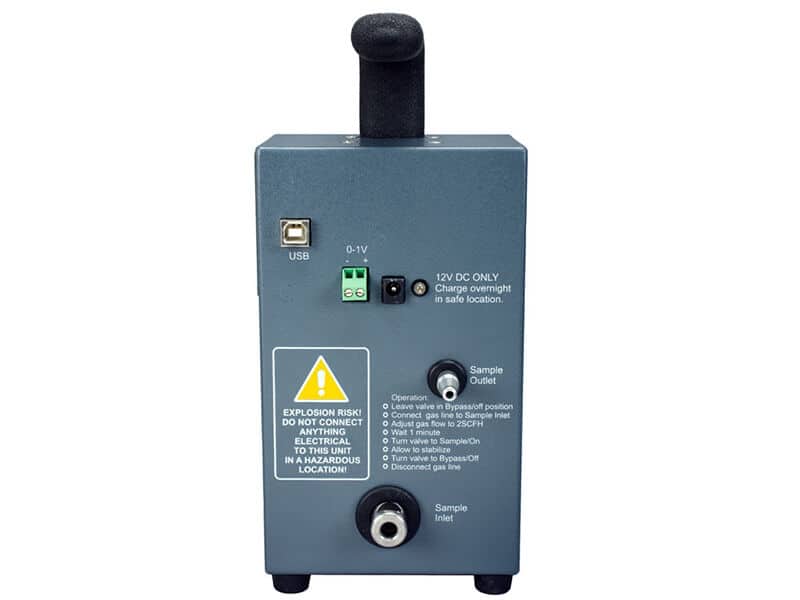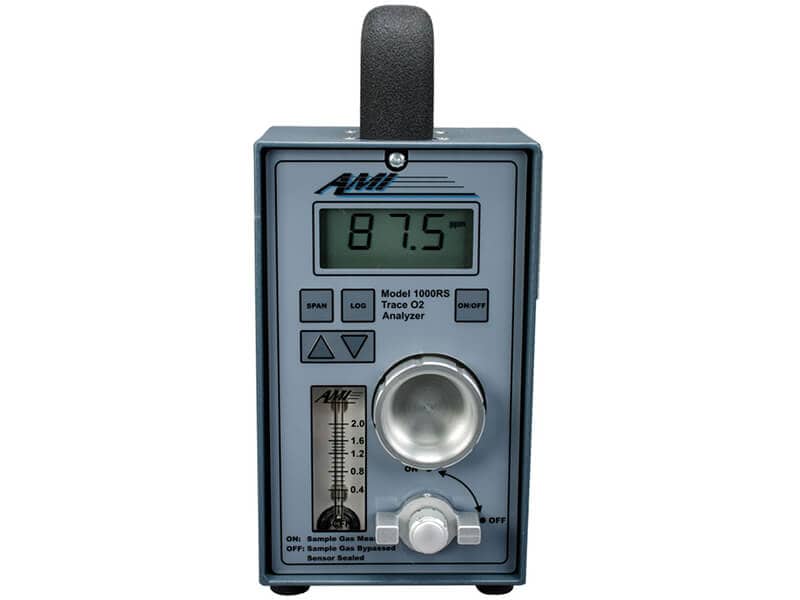 Model 1000RS
Industry's #1 Portable Trace O2 Analyzer
The MODEL 1000RS Portable Trace Oxygen Analyzer is the undisputed leader when measuring ppm levels of oxygen in the natural gas industry. Patented innovations and key features are packed into a compact, rugged design. The patented ELIMINATOR CELL BLOCK and sensor technology combination produce an incredibly fast and reliable O2 measurement. The datalogging feature serves as a critical tool when searching for difficult intermittent leaks in the field.
Technical Specifications
Physical & Electrical Specifications
WEIGHT
GAS CONNECTIONS
WETTED
PARTS
5.0 lbs
(2.3 kg)
Input: Female Quick Disconnect fitting. Supplied with mating male quick disconnect fitting coupled to 1⁄4" compression fitting

Exhaust: Male barb fitting for 1⁄4" flexible tubing
316 S.S. fittings, electro-less nickel-plated cell block, gold-plated contacts, acrylic flow meter & O-rings (Viton, kalrez, and Buna-N)
POWER
Rechargeable Nickel Cadmium Batteries (350 hours of continuous operation)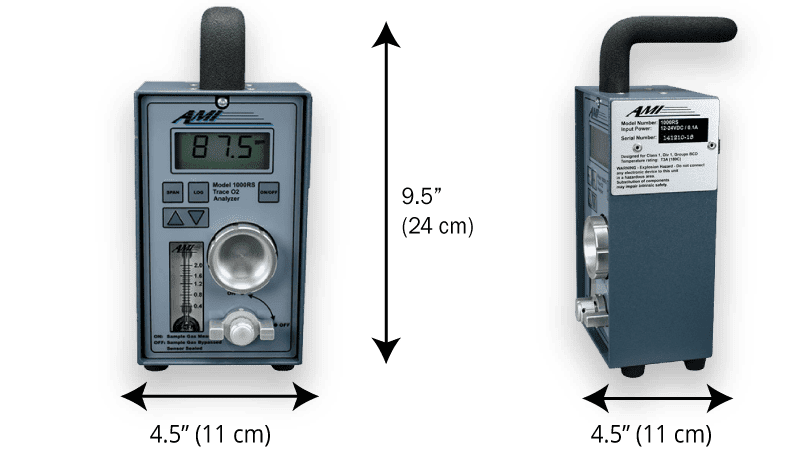 2-year Warranty for Parts & Labor for any defects in materials or workmanship. 6-month Warranty for oxygen sensors
Operational Specifications
OUTPUT RANGES
(USER SELECTABLE)
AMBIENT OPERATIONAL TEMPERATURE
FLOW RATE
(RECOMMENDED)
INLET GAS
PRESSURE
0 – 10 ppm
0 – 50 ppm
0 – 100 ppm
0 – 500 ppm
0 – 1000 ppm0 – 5000 ppm
0 – 1.0%
0 – 5.0%
0 – 10.0%
0 – 25.0%
25°F to 115°F
(–3.9°C to 46°C)
0.1 to 2.0 SCFH
(0.05 – 1.0 Lpm)
0.5 − 150 psig
(0.03 − 10.3 bar)
Sensor & Analyzer Performance Specifications
T-2 Sensor
T-4 Sensor
90% UPSCALE RESPONSE TIMES
FOR SPECIFIC RANGES
REPEATABILITY
APPROVALS
Max Range
0 –10,000 ppm

Special Conditions
<10 ppm H2S, Up to 50% CO2
Max Range
0 –10,000 ppm

Special Conditions
<500 ppm H2S, Up to 50% CO2
<25 sec for
0.0 – 10 ppm
<10 sec for


10 ppm – 25.0%

±1% of range or


±0.2 ppm of oxygen,


whichever is greater
CSA-approved for Class 1,
Div. 1, Groups B,C,D hazardous areas
Analyzer Key Features
ELIMINATOR CELL BLOCK

Contains a Complete Sample System with all components fully integrated, including the flow meter, metering valve and 4-way Selection (ON/OFF) Valve

ANALOG OUTPUT

0.0 − 1.0 VDC

COMMAND CENTER

Software that works across AMI's Analyzers and gives users access to advanced functions:

Calibration Details
Security Settings

Time-stamped data logger with adjustable interval recording for:


• O2 Measurement

• Temperature

• Battery Voltage

ACCESSORIES

Flexible High Pressure Sample Tubing
Features & Benefits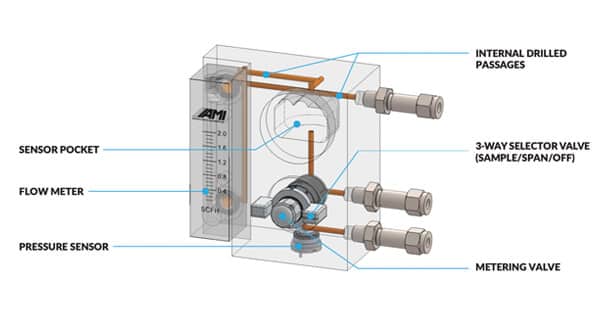 Transparent View of ELIMINATOR CELL BLOCK
THE ELIMINATOR CELL BLOCK ADVANTAGE
The patented ELIMINATOR CELL BLOCK provides a unique, compact sample system approach and a flow-efficient sensor pocket machined into a solid metallic block. Precision cross-drilled intersecting gas passages eliminate the need for long lengths of tubing and leak-prone compression fittings. It also provides the user with direct front panel access for installing and replacing sensors, and the ability to air calibrate the analyzer, all without the need for disassembly or tools.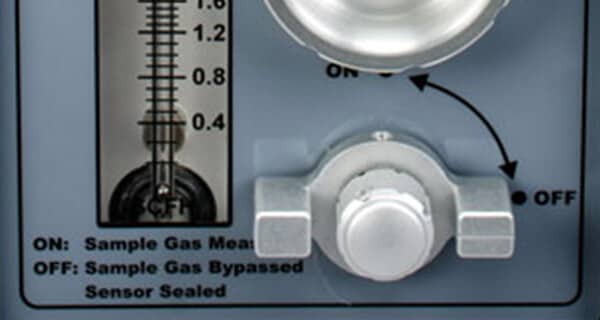 Model 1000RS 4-Way Valve
INNOVATIVE 4-WAY VALVE FOR RAPID RESPONSE
AMI's uniquely engineered 4-way valve is integral to the ELIMINATOR CELL BLOCK and allows the user to quickly purge air from the sample lines with process gas while bypassing the O2 sensor. Then a simple 90°rotation of the 4-way valve to 'SAMPLE' Mode allows sample gas to flow past the sensor for a rapid, accurate response to trace oxygen levels in the pipeline gas. This valve design eliminates the typical lag time associated with a new gas connection, where the oxygen reading spikes to air, resulting in a slow recovery down to low ppm levels. Once sampling is complete, the 4-way valve is rotated to the 'OFF' position, isolating the sensor from unwanted air exposure between measurement sites.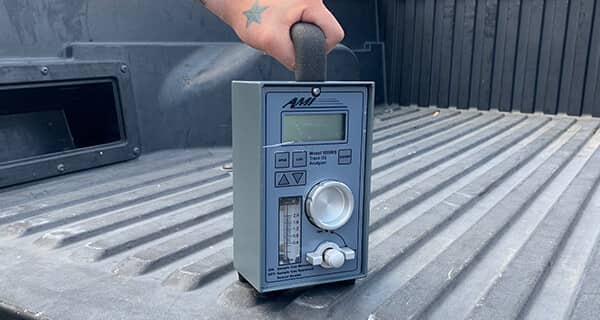 Model 1000RS in the Field
TRULY PORTABLE AND DESIGNED FOR THE FIELD
At just 5 lbs (2.3 kg), the MODEL 1000RS is the smallest, lightest, fastest and most accurate portable Trace Oxygen Analyzer in the industry. It comes standard with an onboard data logger for measuring time-stamped O2 levels and temperature, which is essential for tracking down hard-to-find, intermittent oxygen leaks in the field. The long-life rechargeable battery proves useful when you need days of unattended operation for tracking sporadic oxygen spikes caused from leaks.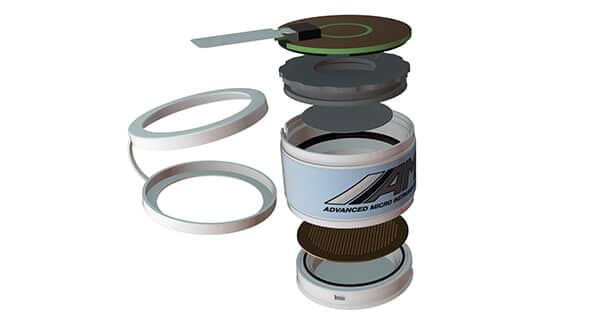 Exploded View of Sensor
PROPRIETARY SENSOR TECHNOLOGY
AMI's patented oxygen sensors deliver unmatched performance for ultra-fast response times, accuracy, and reliability. Every sensor undergoes an intense battery of tests to ensure they meet our strict quality control standards. Our trace and percent oxygen sensors operate safely, accurately, and reliably in inert or flammable gas streams, even when containing high levels of H2S – up to 500 ppm, for their entire warranted life. This eliminates the need for a maintenance intensive H2S scrubber that competitive oxygen analyzers require.
How do I know the Model 1000RS will work for me?
Our experts have years of field experience and are available by the following methods: