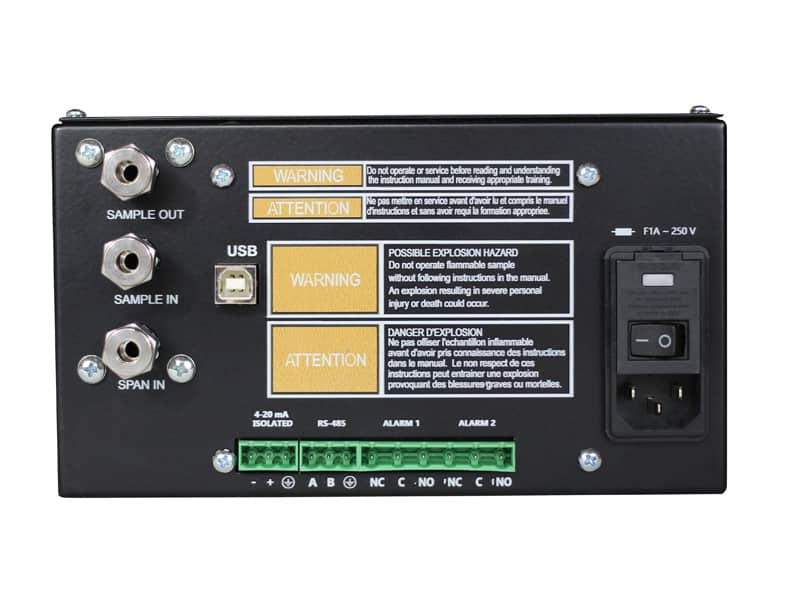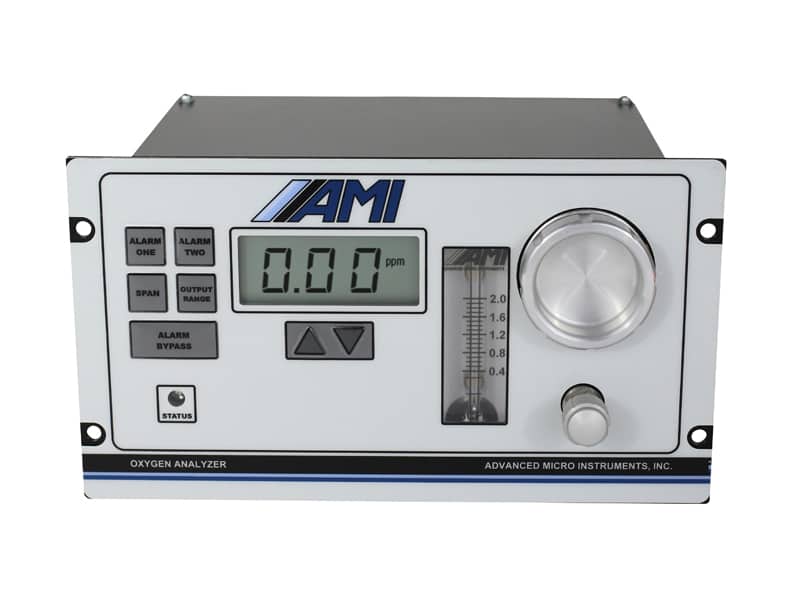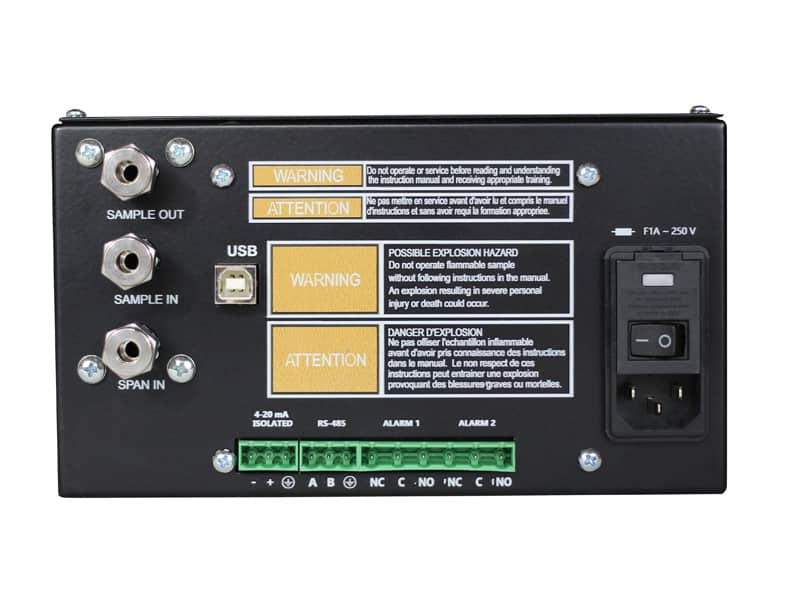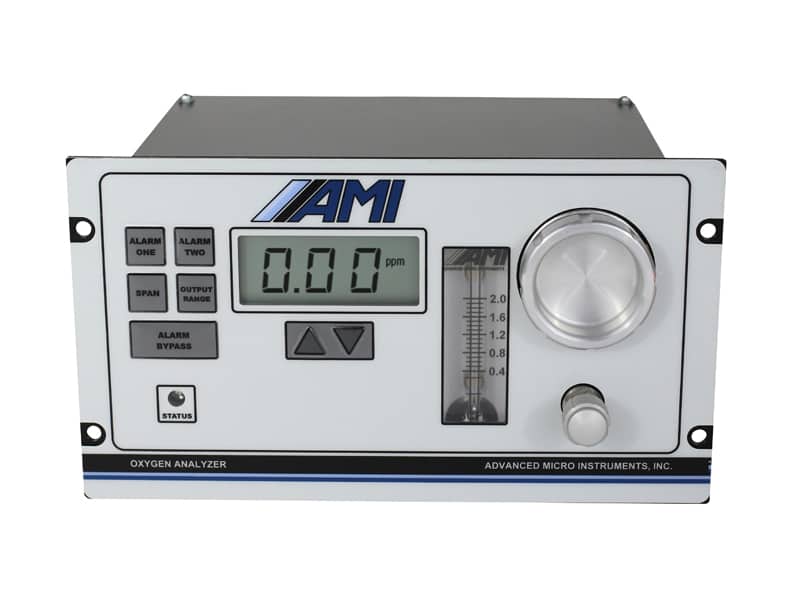 Model 2001RS/RSP
ADVANCED OXYGEN MEASUREMENT MADE EASY
The MODEL 2001RS and 2001RSP are advanced Trace Oxygen Analyzers loaded with a full suite of standard features. The Analyzers' compact design includes AMI's patented ELIMINATOR CELL BLOCK technology, incorporating a complete sample system, and combines it with our industry-leading trace O2 sensors. This combination delivers accurate, reliable and extremely fast response times in a panel mounted, virtually maintenance-free package.
Technical Specifications
MODEL 2001RS

Positive Pressure Samples

MODEL 2001RSP

Atmospheric Pressure Or Vacuum Samples
(includes Sample Pump)
Physical & Electrical Specifications
WEIGHT
GAS CONNECTIONS
WETTED
PARTS
MODEL 2001RS
MODEL 2001RSP
10.0 lbs
(4.5 kg)
10.0 lbs
(4.5 kg)
¼" 316 S.S.
compression
fittings
316 S.S. fittings, anodized aluminum cell block, acrylic flow meter & O-rings (Viton)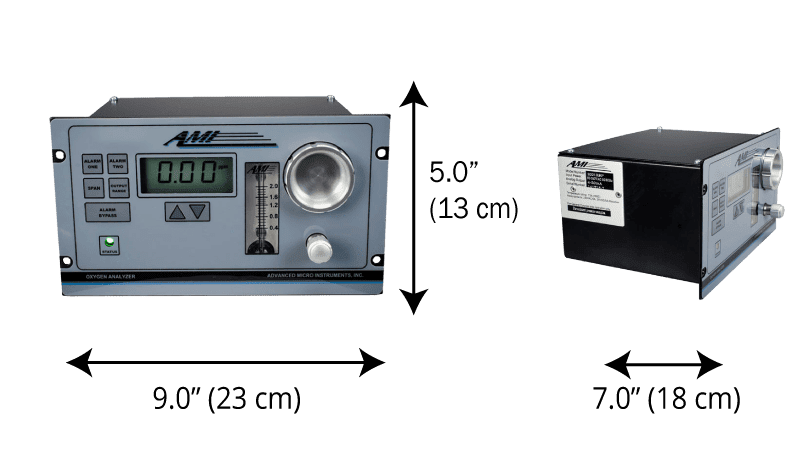 Note: 2-year Warranty for Parts & Labor for any defects in materials or workmanship. 6-month Warranty for oxygen sensors
Operational Specifications
OUTPUT RANGES
(USER SELECTABLE)
AMBIENT OPERATIONAL
TEMPERATURE
FLOW RATE
(RECOMMENDED)
INLET GAS
PRESSURE
OPERATIONAL
CONDITIONS
0 – 10 ppm
0 – 50 ppm
0 – 100 ppm
0 – 500 ppm
0 – 1000 ppm
0 – 5000 ppm
0 – 1.0%
0 – 5.0%
0 – 10.0%
0 – 25.0%
41°F to 113°F
(5°C to 45°C)
0.1 to 2.0 SCFH
(0.05 – 1.0 Lpm)
MODEL 201RS
0.5 psig to 15 psig
(0.03 bar to 1.0 bar)

MODEL 201RSP
-6.5 psig (vacuum) to 15 psig
(-0.5 bar to 1.0 bar)
Pollution Degree 2
Installation Category II
Analyzer Performance Specifications
90% UPSCALE RESPONSE TIMES


FOR SPECIFIC RANGES
SENSITIVITY
REPEATABILITY
Drift
Humidity
0 – 10 ppm
0 – 100 ppm
0 – 1000 ppm
<25 sec
<10 sec
<10 sec
0.5% of full scale
±1.0% of full scale
at constant temperature
±1.0% of full scale in 4 weeks
at constant temperature
<85%, non-condensing
Analyzer Key Features
ELIMINATOR CELL BLOCK

Contains a Complete Sample System with all components, including the flow control valve, flow meter, sample, span, and seal-off solenoid valves, fully integrated

ALARMS

2 fully adjustable concentration alarms with configurable Alarm logic and Relay Contacts, featuring:

Alarm Bypass
Latching/Non-latching

Alarm Delays
Failsafe/Non-failsafe

Trigger Above or Below Setpoint
Open or Close on Alarm

ANALOG OUTPUTS

4 − 20mA isolated output signals and Modbus bi-directional RS485 communication

COMMAND CENTER

Software that works across AMI's Analyzers and gives users access to advanced functions:

Calibration Details
Alarm Configurations

Data Logger with Adjustable Interval Setting

ACCESSORIES
Features & Benefits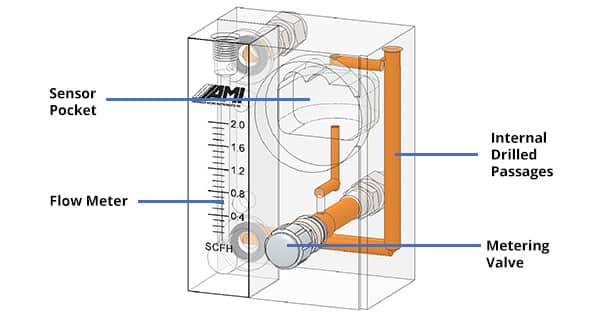 Transparent View of ELIMINATOR CELL BLOCK
ELIMINATOR CELL BLOCK For A Leak-Free Design
The patented ELIMINATOR CELL BLOCK provides a unique, compact sample system approach and a flow-efficient sensor pocket machined into a solid metallic block. Precision cross-drilled intersecting gas passages eliminate the need for long lengths of tubing and leak-prone compression fittings. Additionally, we have engineered the metering valve and flow meter to be an integral part of the ELIMINATOR CELL BLOCK. The patented design also provides the user with direct front panel access for installing and replacing sensors, and the ability to air calibrate the analyzer, all without the need for disassembly or tools. For simple certified gas calibrations, we have provided a surface mounted 3-way gas solenoid valve – activated from the front panel interface.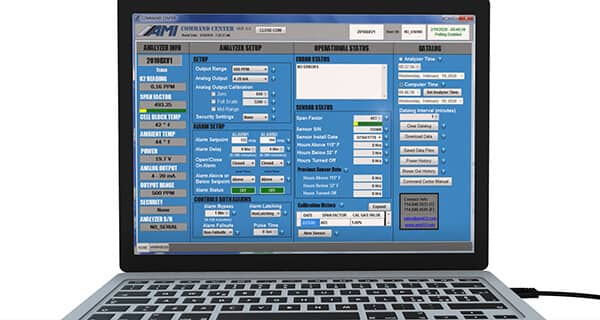 COMMAND CENTER User Interface
Full of standard features
The MODEL 2001RS and 2001RSP are loaded with a full suite of advanced features without the typical 'up charges'. The standard features include: 10-user selectable analog output ranges, dual independent alarm relay contacts, comprehensive alarm logic, alarm bypass, and 3 levels of security settings. The data logging feature provides detailed time-stamped records for O2 measurement, temperature, supply voltage and power brown-out history. Additionally, the 2001RS/RSP analyzers have integral solenoid valves for O2 sensor protection during unexpected power loss.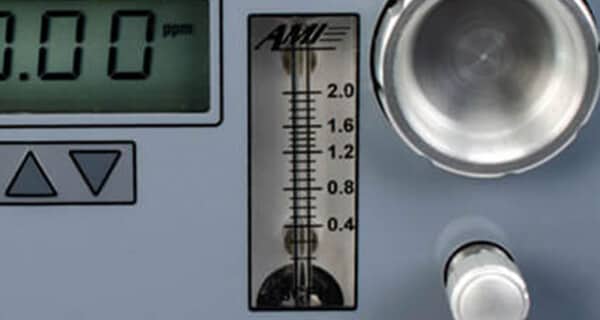 Model 2001RS/RSP Flow Meter
POSITIVE PRESSURE OR ATMOSPHERIC/VACUUM SAMPLING
The MODEL 2001RS is designed for trace oxygen measurements in positive pressure applications, while the MODEL 2001RSP includes a sample pump making it the perfect choice for measuring trace O2 measurements in atmospheric or vacuum conditions.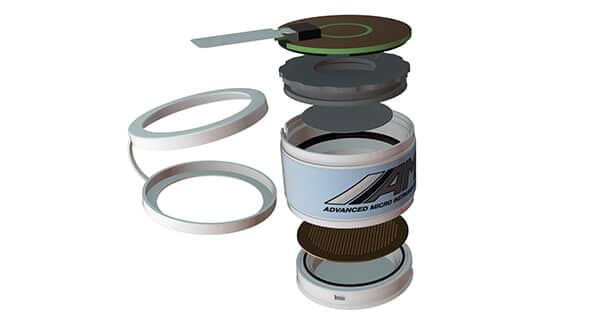 Exploded View of Sensor
Proprietary Sensor Technology
AMI's patented oxygen sensors deliver unmatched performance for ultra-fast response times, accuracy, and reliability. Every sensor undergoes an intense battery of testing to ensure they meet our strict quality control standards. Our trace and percent oxygen sensors operate safely, accurately, and reliably in inert or flammable gas streams. For particularly difficult applications, our sensors can tolerate high levels of H2S, up to 500 ppm H2S, for their entire warranted life. This eliminates installing a maintenance intensive H2S scrubber that competitive oxygen analyzers require!
Model 2001RS/RSP Downloads
How do I know the Model 2001RS/RSP will work for me?
Our experts have years of field experience and are available by the following methods: