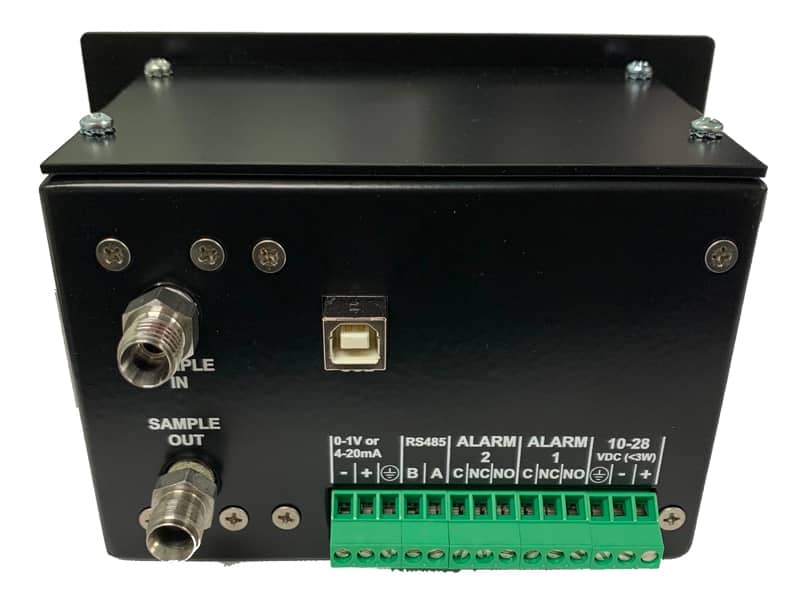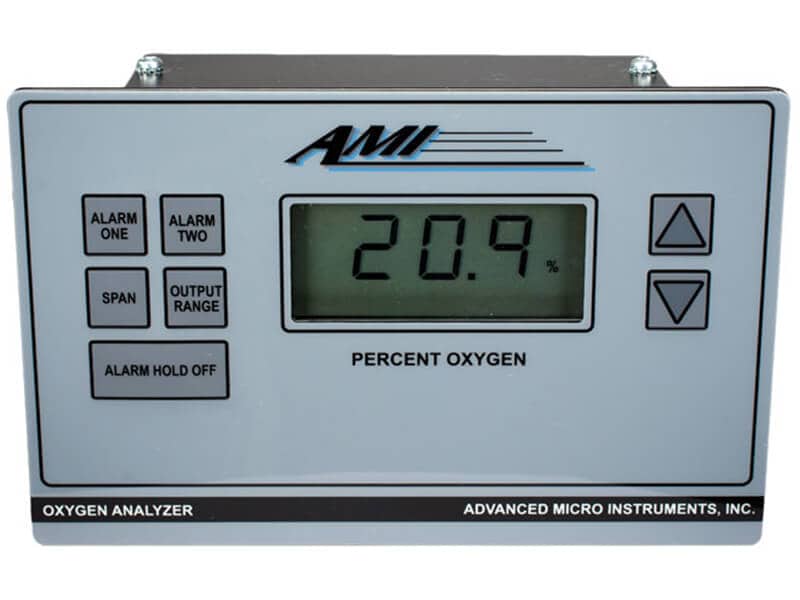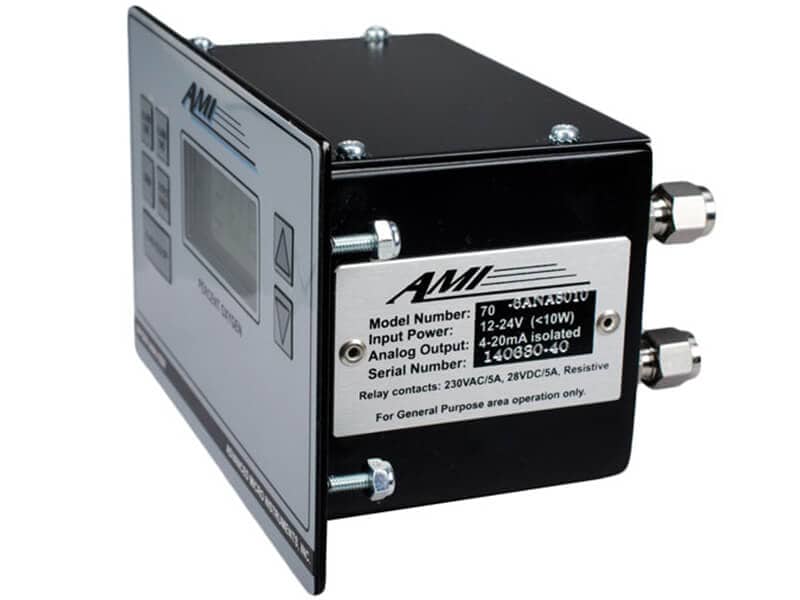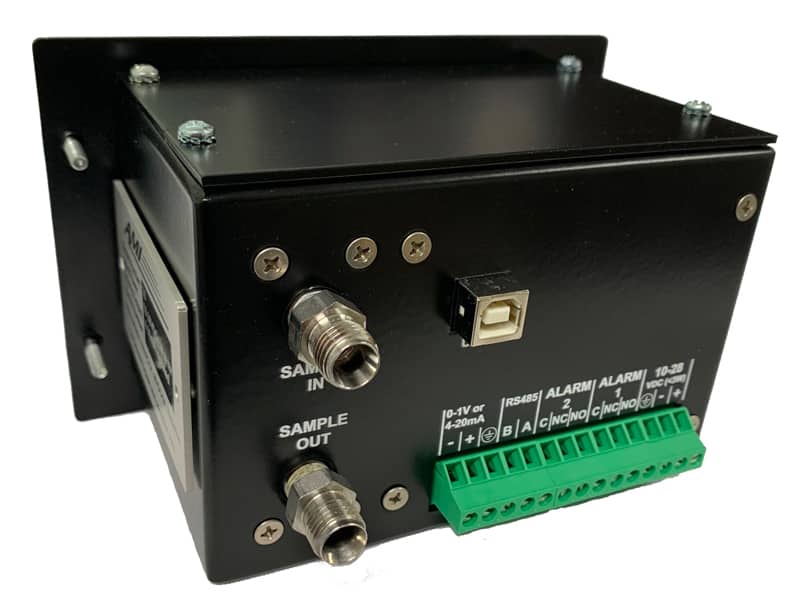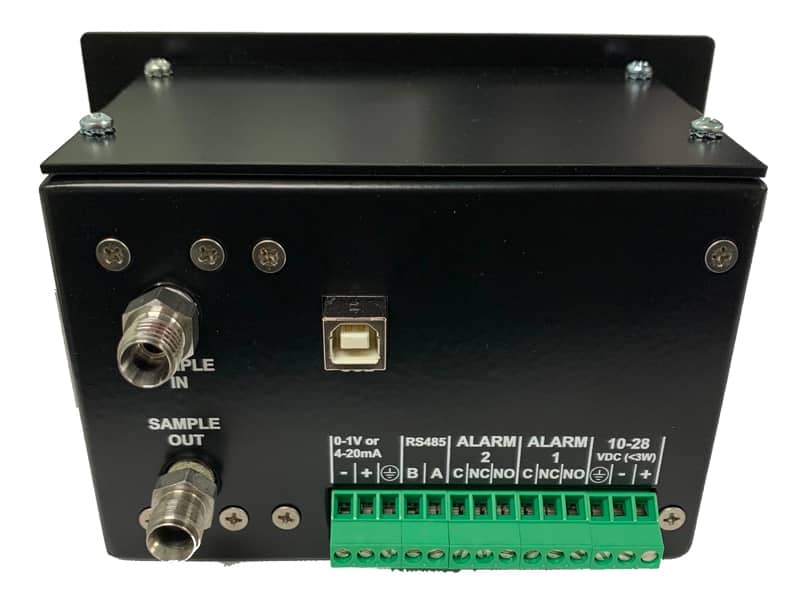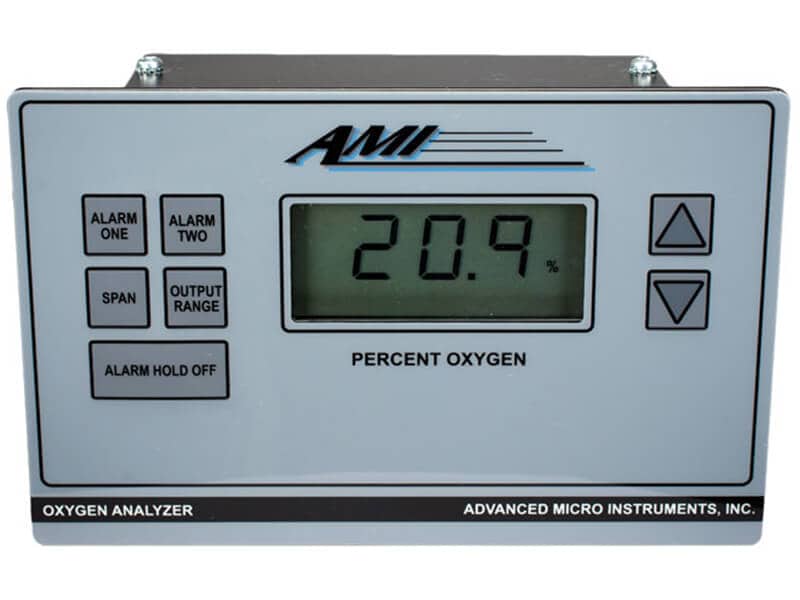 Model 70
Low Cost Percent Oxygen Analyzer with Exceptional performance
The MODEL 70 is a Percent Oxygen Analyzer that is a perfect choice for accurately measuring in a NON- FLAMMABLE gas stream. The MODEL 70 is supplied in a compact, panel mount package and suitable for use in general purpose environments. The unique zirconium oxide sensor technology produces an incredibly accurate and stable reading over a wide O2 measurement and temperature range. The sensor has an unprecedented 10-year life expectancy, requiring only annual calibrations.
Technical Specifications
Physical & Eletrical Specifications
WEIGHT
GAS CONNECTIONS
WETTED
PARTS
3.0 lbs
(1.4 kg)
¼" 316 S.S.
compression
fittings
316 S.S. fittings & O-rings (Viton)
POWER
10-28VDC <3 watts, supplied with a 115VAC to 12VDC adapter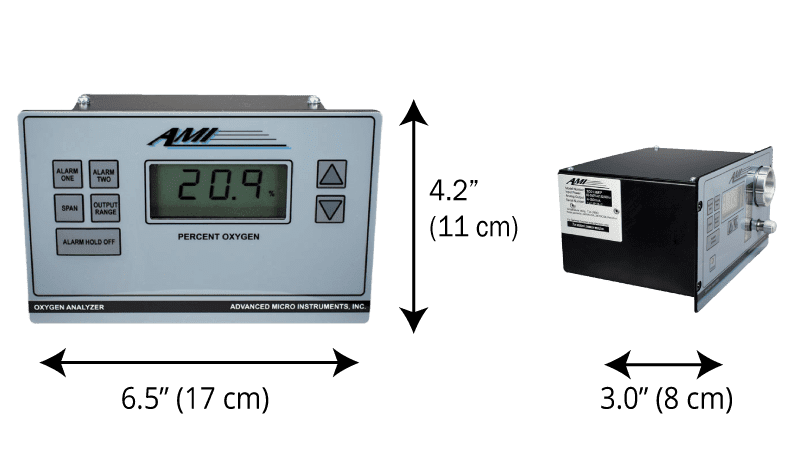 Warranty: 2 years for parts and labor. 2 years for zirconium oxide sensor.
Operational Specifications
OUTPUT RANGES
(USER SELECTABLE)
AMBIENT OPERATIONAL
TEMPERATURE
FLOW RATE
(RECOMMENDED)
INLET GAS
PRESSURE
OPERATIONAL
CONDITIONS
Standard
Optional
0 – 1.0%
0 – 5.0%
0 – 10.0%
0 – 25.0%
0 - 50%
0 - 95%
32°F to 122°F
(0°C to 50°C)
0.1 to 2.0 SCFH
(0.05 - 0.9 Lpm)
1.0 − 30 psig
Pollution Degree 2
Installation Category II
Analyzer Performance Specifications
90% UPSCALE RESPONSE TIMES


FOR SPECIFIC RANGES
SENSITIVITY
REPEATABILITY
Drift
Humidity
Approvals
0-25% <12 seconds
0-95% <12 seconds
0.5% of full scale
+/- 0.1% of range or +/- 0.1% of oxygen, whichever is greater
±1.0% of full scale in 4 weeks
at constant temperature
<85%, non-condensing
designed to meet General Purpose requirements
Analyzer Key Features
ALARMS

2 fully adjustable concentration alarms with configurable Alarm logic and Relay Contacts, featuring:

Alarm Bypass
Latching/Non-latching

Alarm Delays
Failsafe/Non-failsafe

Trigger Above or Below Setpoint
Open or Close on Alarm

ANALOG OUTPUTS

4 − 20mA, 0 - 1 VDC or 1-5VDC isolated output signals and Modbus bi-directional RS485 communication

COMMAND CENTER

Software that works across AMI's Analyzers and gives users access to advanced functions:

Calibration Details
Alarm Configurations

Data Logger with Adjustable Interval Setting

ACCESSORIES

COMMAND CENTER
Zirconium Oxide Sensors (note: sensor is not field replaceable)
Features & Benefits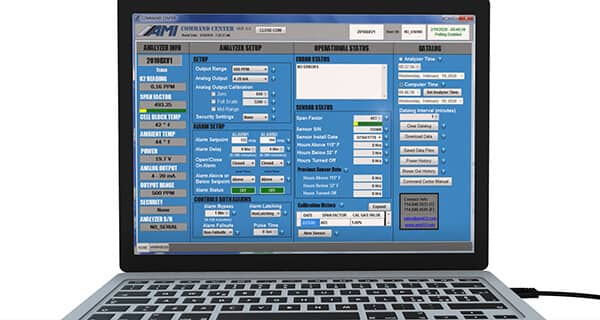 COMMAND CENTER User Interface
Full of standard features
The MODEL 70 Percent Oxygen Panel Mount Analyzer comes standard with advanced features, including 4-user selectable analog output ranges, dual independent alarms, comprehensive alarm logic (fail safe or non-fail safe, latching or non-latching and independent alarm delays), alarm bypass, and 3 levels of security settings. Automatic data logging provides detailed time-stamped records of O2 measurement, temperature, supply voltage and power brown-out history.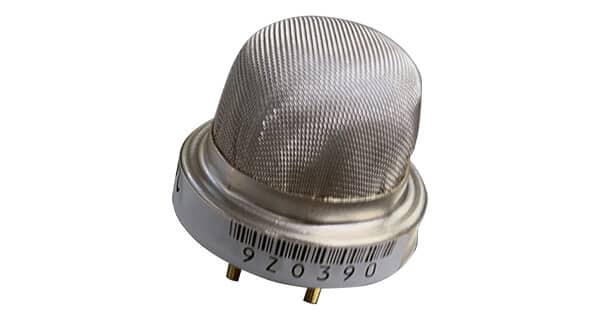 Zirconium Oxide Sensor
ZIRCONIUM OXIDE SENSOR TECHNOLOGY
AMI's zirconium oxide sensors are extremely accurate and stable, have a 10-year life expectancy and are unaffected by barometric pressure fluctuations or rapidly changing temperatures from 0-120°F. Recommended calibrations are 1-2 times per year in the 0-25% oxygen range.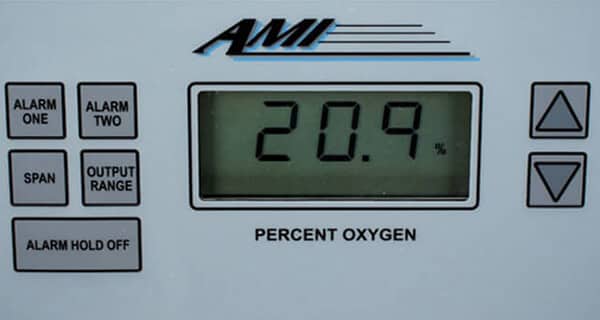 Model 70 Front Panel
Exceptional Value
The MODEL 70 is the perfect choice for accurately measuring percent levels of oxygen in either inert background gases or enriched oxygen gas streams up to 95% O2. The MODEL 70 is a maintenance-free, compact analyzer loaded with advanced features at an exceptional price.
How do I know the Model 70 will work for me?
Our experts have years of field experience and are available by the following methods: