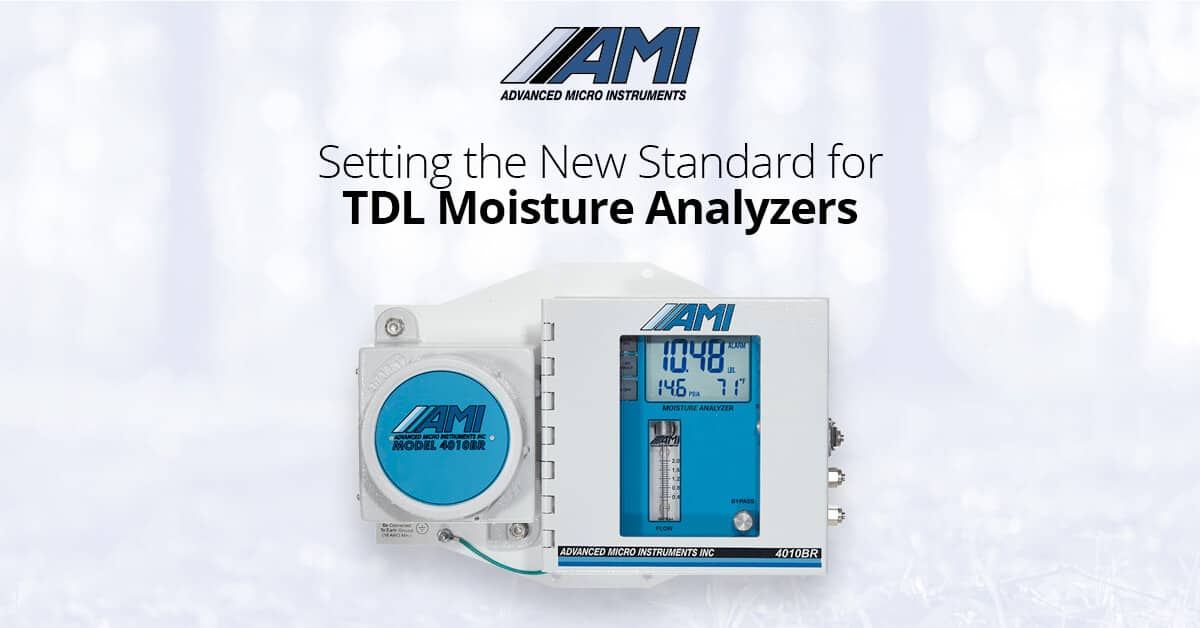 Advanced Micro Instruments, Inc (AMI) has released the BARRACUDA MODEL 4010BR TDL Moisture Analyzer. The new Analyzer is considered the most advanced in the industry with a patented design that makes the unit highly reliable, very compact and extremely cost-effective. It comes packed with sought after features that makes performing accurate trace moisture measurements incredibly easy at a fraction of the cost of other TDL Analyzers on the market.
The new unit from AMI has a design that sets a higher benchmark for measurement performance. First, it contains a multi-pass laser cell that optimizes the length of the laser path. In accordance with the Beer-Lambert Law, this improves the precision of the trace moisture reading as the laser passes through the sample gas. Second, AMI was able to identify a particular wavelength that no other manufacturer has used or patented in a design. From the research conducted, operating a TDL at this wavelength results in a more accurate and better reading for trace moisture, especially for natural gas samples.
The BARRACUDA MODEL 4010BR also contains two AMI core innovations. The first is a special version of the ELIMINATOR CELL BLOCK. This version's integrated sample system contains a flow meter, sample metering valve, bypass metering valve, pressure transducer, temperature transducer, liquid rejection membrane and Herriot Cell. The Block reduces the overall dimensions of the MODEL 4010BR and allows the Analyzer to achieve a size that is approximately 80% smaller than other competitive units. The ELIMINATOR CELL BLOCK also creates a more efficient path for the gas sample, resulting in a faster measurement response time. The second core innovation is the COMMAND CENTER User Software. Once the software is loaded on a computer laptop and connected to the Analyzer, the operator will gain access to advanced features, which include dual independent alarm relay contacts, comprehensive alarm logic (fail safe or non-fail safe, latching or non-latching and independent alarm delays), alarm bypass, and 3 levels of security settings. Automatic data logging provides detailed time-stamped records of moisture measurement, gas pressure, temperature, supply voltage and power brown-out history.
The MODEL 4010BR also solves a problem for pipeline operators that units from other manufacturers could not do – perform trace moisture measurements in a remote area. When no supply of electricity is available, operators must turn to solar to power their Analyzers. Unfortunately, in the case of most other TDL Moisture Analyzers, their power requirements exceed what a standard solar panel can deliver. This is not the case with the BARRACUDA MODEL 4010BR as it requires less than 250mA @ 12VDC to fully operate. By including a standard solar panel as part of the installation, the MODEL 4010BR can deliver trace moisture measurements in areas where readings were not previously possible.
The performance features and benefits of this new TDL Moisture Analyzer, along with its cost being a fraction of what customers are normally accustomed to seeing on the market, should generate a lot of interest. Anyone having more questions or wanting to place an order should contact AMI or their local distributor.