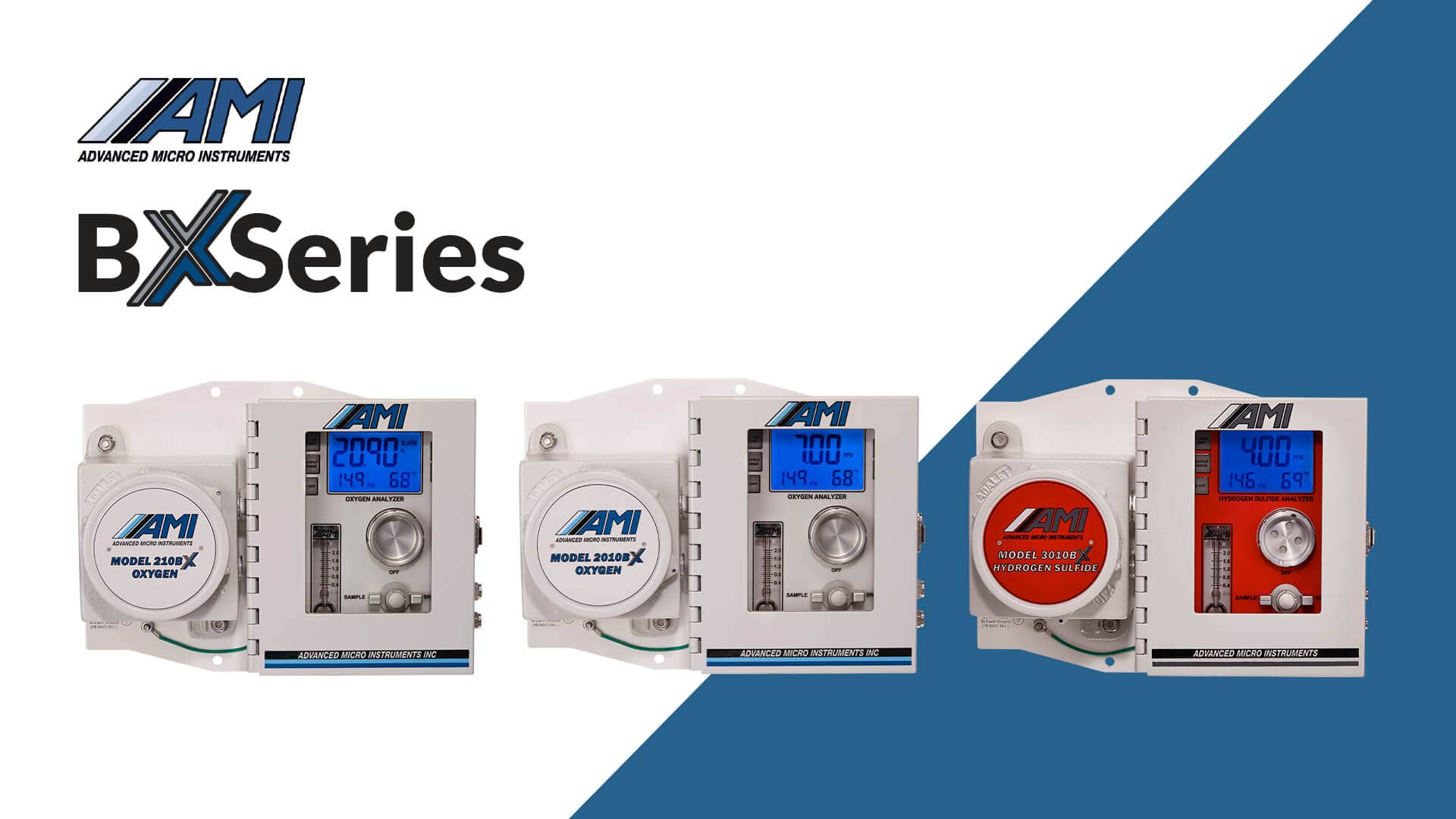 Advanced Micro Instruments, Inc. (AMI) announced today that it has begun accepting orders for the BX Series Gas Analyzers – the company's most advanced offering to date. The MODEL 2010BX Trace Oxygen Analyzer, 210BX Percent Oxygen Analyzer and 3010BX Trace H2S Analyzer combine AMI's latest ELIMINATOR CELL BLOCK technology with reliable and easy-to-use, intuitive features that are available through the COMMAND CENTER Software.
The new BX Series introduces the latest iteration of the patented ELIMINATOR CELL BLOCK which provides a unique, compact sample system approach and a flow-efficient sensor pocket machined into a solid metallic block. Precision cross drilled intersecting gas passages eliminate the need for long lengths of tubing and leak-prone compression fittings. Additionally, a uniquely engineered 3-way selector valve (SAMPLE/SPAN/OFF), metering valve, pressure sensor and flow meter are all integrated into the Block. The design of the ELIMINATOR CELL BLOCK also provides the user with direct front panel access for installing and replacing sensors and the ability to air calibrate the analyzer, all without the need for disassembly or tools.
The new BX Series Analyzers maintain the compact size that AMI Analyzers are known for. But operators will notice that these Analyzers are equipped with a larger backlit LCD that is easier on the eyes when viewing the gas measurement and temperature and pressure readings. The new units also display more of the company's branding esthetics.
The MODEL 2010BX, 210BX and 3010BX can connect to the COMMAND CENTER Software for access to advanced features that are standard with these Analyzers. The features include: 10-user selectable analog output ranges, large backlit LCD, dual independent alarm relay contacts, comprehensive alarm logic (fail safe or non-fail safe, latching or non-latching and independent alarm delays), alarm bypass, and 3 levels of security settings. Automatic data logging provides detailed time-stamped records of gas measurement, gas pressure, temperature, supply voltage and power brown-out history.
Product information, data sheets, overview videos and literature downloads can be found on the company's website at www.amio2.com. Early demand for the BX Series suggests that these Analyzers will quickly become the preferred choice among engineers and measurement technicians.