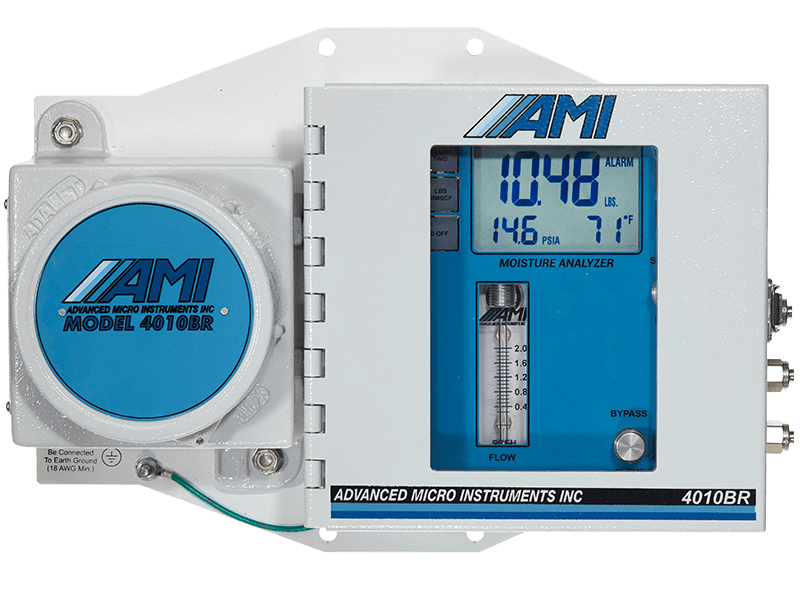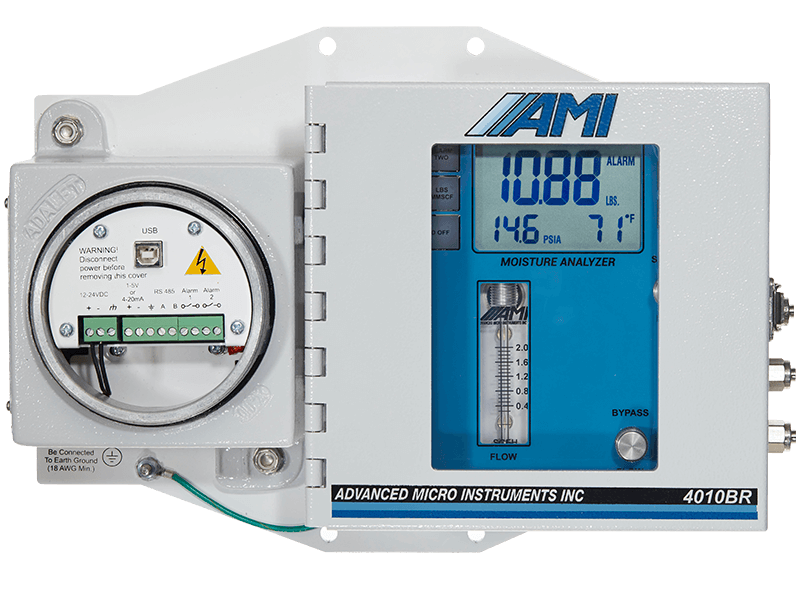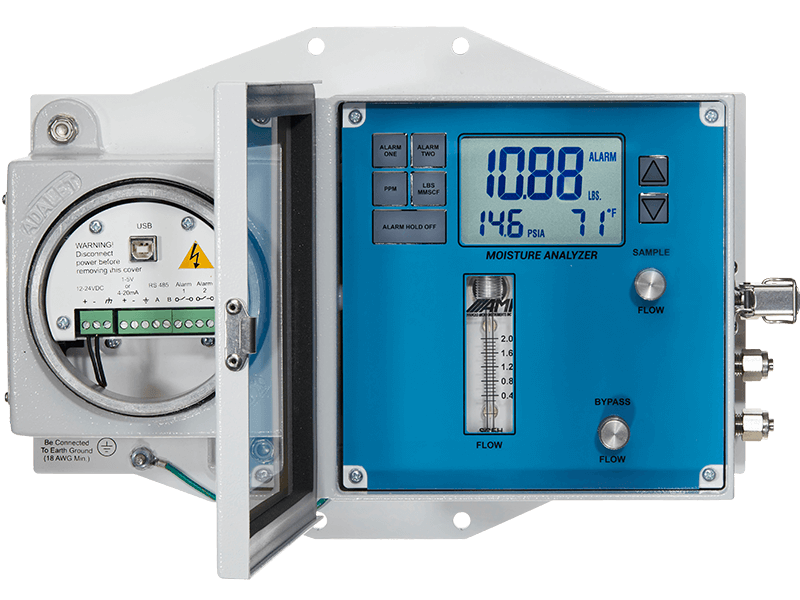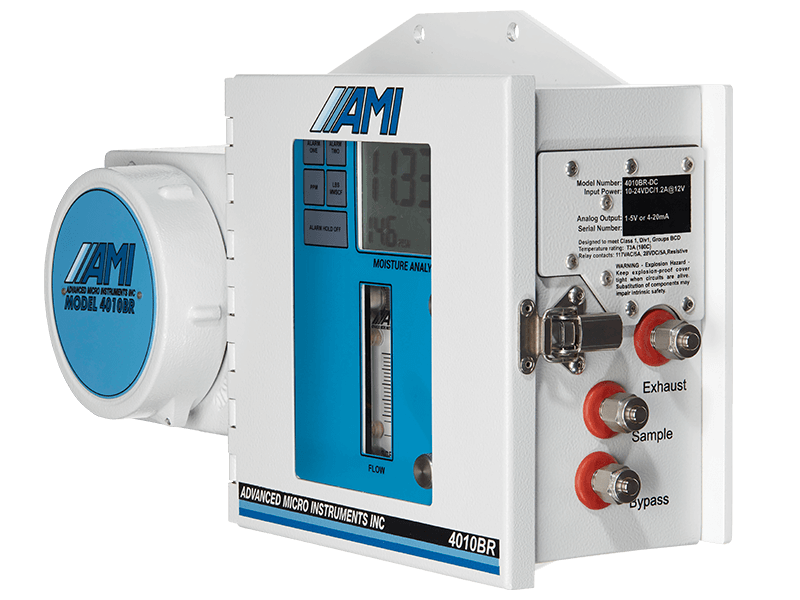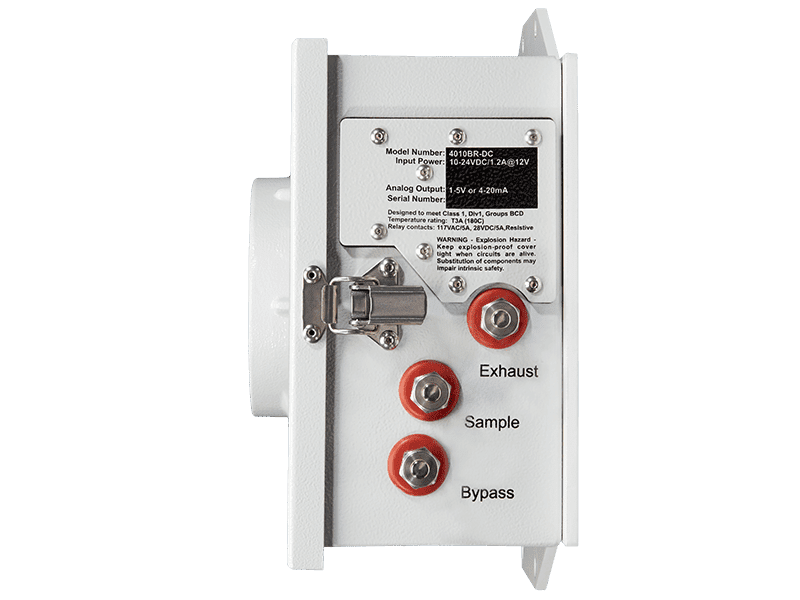 Model 4010BR
Best In Class Trace Moisture Analyzer
The MODEL 4010BR is an advanced TDL Trace Moisture Analyzer incorporating innovative patented technologies and superior designs that deliver unsurpassed performance and reliability, while keeping costs low. This TDL Analyzer is the #1 choice among engineers and measurement technicians for critical H2O measurements in natural gas streams, where accuracy and dependability are required.
Technical Specifications
Physical & Electrical Specifications
WEIGHT
MOUNTING
GAS CONNECTIONS
WETTED
PARTS
17.0 lbs
(7.7 kg)
Wall Mount
or 2.0" Pipe
¼" 316 S.S.
compression
fittings
316 S.S. fittings, electro-less nickelplated cell blocks, Teflon®-based liquid rejection membrane, acrylic flow meter & O-rings (Viton and Buna-N)
POWER
DC
AC
10 – 28 VDC, 1.2 amps max
110 – 120 VAC, 500 mA max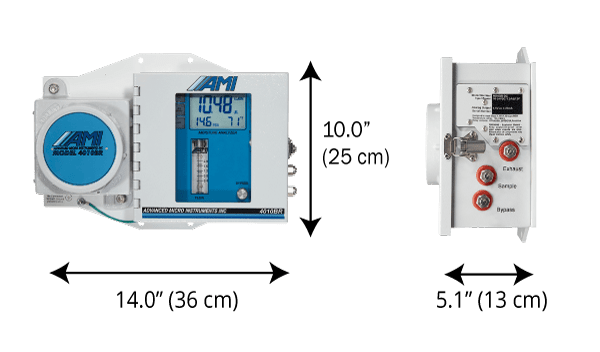 Note: 2-year Warranty for Parts & Labor for any defects in materials or workmanship.
Operational Specifications
Measurement RANGE
AMBIENT OPERATIONAL
TEMPERATURE
FLOW RATE
(RECOMMENDED)
INLET GAS
PRESSURE
0.25 – 20.0 lbs (5.25 – 420 ppm) H2O
20°F to 120°F (–6.7°C to 49°C)
1.0 to 2.0 SCFH (0.5 – 1.0 Lpm)
1.0 − 20.0 psig (0.07 − 1.4 bar)
Analyzer Performance Specifications
| | | |
| --- | --- | --- |
| 90% RESPONSE TIMES | REPEATABILITY | APPROVALS |
| <2 sec | ±1% of range or ±0.25 lbs (±5.25 ppm) of H2O, whichever is greater | CSA-approved for Class 1, Div. 1, Groups C & D, T3A |
Analyzer Key Features
ELIMINATOR CELL BLOCK

With a Complete Integrated Sample System (including flow meter, sample metering valve, bypass metering valve, pressure transducer, termperature transducer, liquid rejection membrane, and Sample Measurement Cell)

ALARMS

2 fully adjustable concentration alarms with configurable Alarm logic and Relay Contacts, featuring:

Alarm Bypass
Latching/Non-latching

Alarm Delays
Failsafe/Non-failsafe

Trigger Above or Below Setpoint
Open or Close on Alarm

ANALOG OUTPUTS

1 − 5 VDC and 4 − 20mA isolated output signals and Modbus bi-directional RS485 communication

COMMAND CENTER

Software that works across AMI's Analyzers and gives users access to advanced functions:

Error Status Display
Alarm Configurations

SMART REALIGNMENT of signature H2O and methane peaks
Data Logger with time-stamped records of moisture readings,


temperature, brown-outs and pressure as well as security settings

ACCESSORY

Extreme Weather Enclosure
Features & Benefits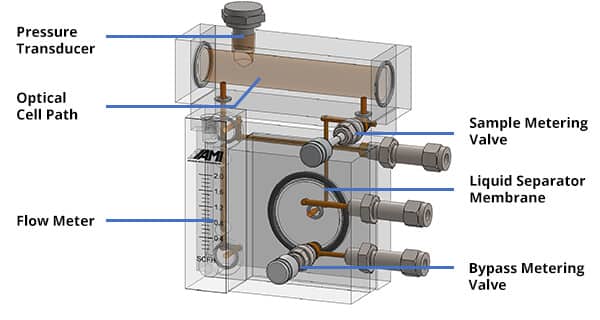 Transparent View of ELIMINATOR CELL BLOCK
Patented Cell Block For An Incredibly Compact Leak-Free Design
A low volume Herriott cell has been directly mounted to our patented ELIMINATOR CELL BLOCK™. This combination provides a very compact and complete sample system approach. Precision cross-drilled intersecting gas passages eliminate the need for long lengths of tubing and leak-prone compression fittings. Additionally, we have integrated a liquid rejection membrane, bypass metering valve, flow control metering valve, and flow meter into the compact set of blocks. Sample gas travels a short 4" distance from the compression fitting prior to entering the measurement cell, resulting in the industry's fastest and most reliable measurement.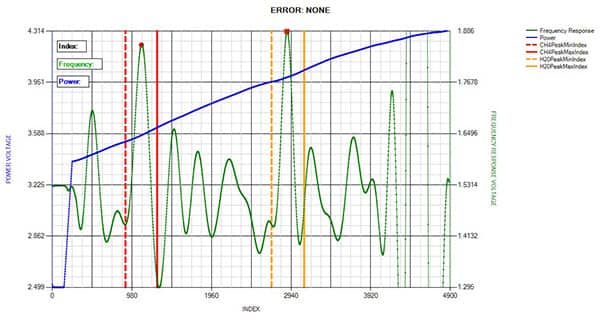 Sample waveform of a TDL moisture measurement
Proprietary TDL Technology
AMI's patented Tunable Diode Laser (TDL)-based technique for moisture measurement is noninvasive, with no sensor in contact with the sample gas that can become contaminated or cause drift. This means unmatched performance for ultra-fast response times, accuracy, and reliability, with no cross interferences with other gases in the stream, including mercaptans, alcohols or heavier hydrocarbons.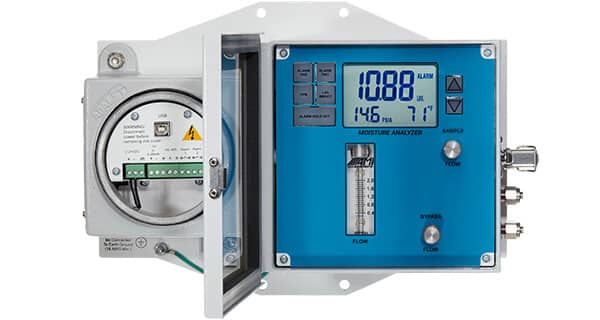 Model 4010BR Front Panel
Unmatched Reliability – The First Time And Every Time
AMI's non-contact TDL technology means the factory calibration remains stable over time. Long-term reliability is further enhanced by AMI's proprietary analysis software that provides a quick and simple adjustment to correct for any long-term laser power drifts or zero level drifts. Prior to shipment, every Analyzer undergoes an intense battery of performance tests over its entire range for pressure, temperature and linearity specifications to ensure the unit meets our strict quality control standards.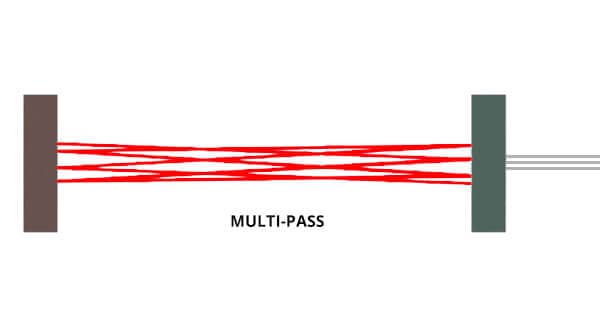 Multi-pass cell design lengths the laser path without increasing the Analyzer's overall size
Optimized Optical Cell
Sample gas flows through AMI's compact multi-pass optical absorption cell, or Herriott cell. This special cell contains two plano-concave mirrors at each end of a precision-machined block with small holes in each mirror to couple incoming and outgoing light. The AMI design minimizes the volume of sample gas in the Herriott cell and eliminates any air gaps between the laser output and the detector, ensuring that only H2O within the space between the two mirrors is measured. AMI further enhances its measurement technique by utilizing wavelength modulation spectroscopy (WMS) to increase sensitivity and reduce noise. The result is a small-volume sample cell with an optimized optical absorption path length, tailored specifically for the measurement of H2O in natural gas over the 0.25 to 20 lb. range.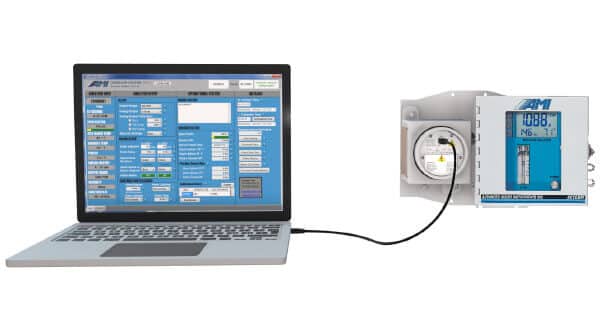 COMMAND CENTER User Interface
All The Advanced Features For One Low Price
The MODEL 4010BR Trace moisture Analyzer comes loaded with a full suite of advanced features without the typical up charges. The standard features include: 0.25lb to 20lb. measurement range, dual independent alarm relay contacts, comprehensive alarm logic (fail safe or non-fail safe, latching or non-latching and independent alarm delays), alarm bypass, 3 levels of security settings, a large backlit LCD, isolated analog output and Modbus communication protocol. Automatic data logging provides detailed time-stamped records of moisture measurement, gas pressure, temperature, supply voltage and power brown-out history and a simple SMART REALIGNMENT feature for the signature peaks. All these features can be accessed through AMI's powerful COMMAND CENTER software.
How do I know the Model 4010BR will work for me?
Our experts have years of field experience and are available by the following methods: